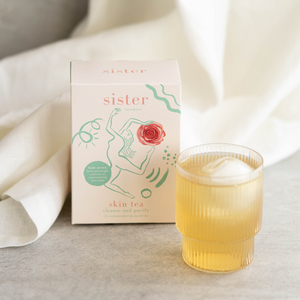 Skin Tea - Whole Leaf Silky Pyramids
Sale price Price $8.00 Regular price
Help your skin stay supple and hydrated with this sumptuous blend of green tea, rose and eucalyptus, known for their anti-inflammatory and purifying properties. A star ingredient is ashwagandha - an ancient Ayurvedic herb, which has been proven to reduce stress and anxiety and strengthen your body.
Little secret: you can brew this tea overnight and use as a rejuvenating face tonic.
Ingredients: green tea, chamomile, dandelion leaves, ashwagandha, eucalyptus, rose petals, natural flavouring
To make a perfect brew: 1 tea pyramid per cup. Best brewed in hot water at 80C for 1-2 minutes.
One pack contains: 12 biodegradable silky tea pyramids. Net weight: 33.6g.