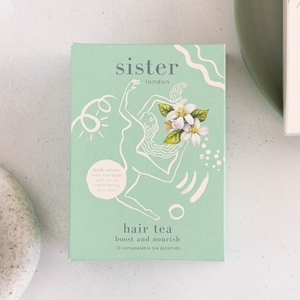 Hair Tea - Whole Leaf Silky Pyramids
Sale price Price $8.00 Regular price
Treat yourself to a 'spa in a cup' sensation with this indulgent blend of jasmine green tea, rosemary and oolong. While you're enjoying your hot cup of tea, it will be giving your hair a natural boost with marshmallow root and calendula, traditionally known for helping circulation and their soothing and softening properties.
Little secret: you can brew this tea overnight and use as a conditional hair rinse.
Ingredients: Jasmine green tea, oolong tea, ginkgo biloba, rosemary, lavender, calendula petals
To make a perfect brew: 1 tea pyramid per cup. Brew in hot water at 80C for 2-3 minutes.
One pack contains: 12 biodegradable silky tea pyramids