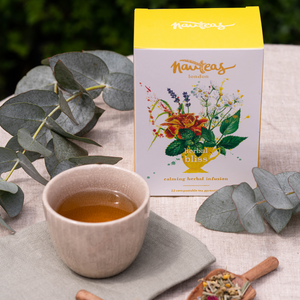 Herbal Bliss - Whole Leaf Silky Pyramids
Sale price Price $8.00 Regular price
This naturally caffeine-free tea is a vibrant blend of herbs to soothe and relax with. Inspired by fragrant meadows and bringing you the pure goodness of nature, this tea is as good for the body as it is for the soul.
How to make it: 1 tea pyramid per cup, brew in boiling water for 3-5 minutes. Great with a spoon of honey or on its own
Ingredients:  lemongrass, melissa mint, peppermint, blackberry leaves, chamomile, strawberry leaves, hazelnut leaves, marigold blossoms, rose petals, lavender pieces
Each pack contains: 12 silky pyramid tea bags (fully biodegradable)
Shipping: please see this page for our delivery info. Standard UK shipping rate is £3. Free UK shipping over £30.

Customer Reviews
My favourite!!!
One of my favourite things about preparing a cup of this tea is the smell of the ingredients ,it's so fresh –but at the same time so mellow and one can individually make out all the smells but still love how it blends together .This one did not disappoint me because it was not dusty and had proper leaves , super-fragrant and the aroma hits you as soon as you open the seal of the bag . Not to forget excellent service and quick delivery .
05/19/2020
Evgenia G.
Chiswick, England, United Kingdom
The name of this tea stood up to my expectations!
I am a real fan of herbal tea and was very pleasantly surprised by the vibrant mix of flavours in this beautifully crafted tea, which feels like it was lovingly created from the heart. Truly, a total Bliss.