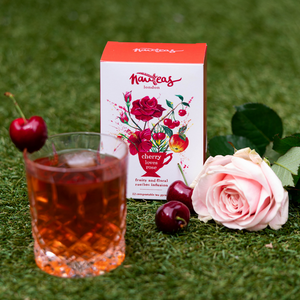 Cherry Loves Rose - Whole Leaf Silky Pyramids
Sale price Price $8.00 Regular price
This is a true Nauteas classic if there ever was one. Fruity, aromatic and full of berry flavour for you to enjoy. It's also caffeine free. It's delicious and hydrating at any time of the day and the best thing of all (we think) – it's an amazing base for cocktails and iced tea!
How to make it: 1 tea pyramid per person, brew for 3-4 minutes
Ingredients: rooibos, hibiscus, apple pieces, rosehip, rose petals, cranberry, orange peel, cherry, natural flavouring
Each pack contains: 12 silky pyramid tea bags (fully biodegradable)
Shipping: please see this page for our delivery info. Standard UK shipping rate is £3. Free UK shipping over £30.
Customer Reviews
01/21/2021
Pia B.

United Kingdom
Amazing tea!!!
Got two flavours and always struggle as to which one as both really good
06/18/2020
Anna

United Kingdom
Great-tasting rooibos tea
I usually find rooibos tea very strong flavour however the combinations of added cherries and roses give this tea a completely unique taste. Works wonderfully as a cold brew and I love that it is caffeine-free! Definitely recommend to try this.
06/16/2020
Lexi B.

United Kingdom
This is my favourite
There is no other flavour like this. You have to try! My favourite tea!
06/13/2020
Samantha K.

United Kingdom
Beautiful teas!
My tea order was delivered quickly and it was really well packaged. I absolutely adore the fragrance and taste of Cherry Loves Rose. I will definitely be ordering more! Thank you!
05/19/2020
Evgenia G.
Chiswick, England, United Kingdom
A truly unique blend for happiness
I was getting tired of the same old camomile and peppermint teas when I discovered Nauteas and decided to try out something new. I was really impressed by the unique blend of this fruity tea that you can have either hot, warm or cold - a perfect companion for any remote worker like myself who needs a good cuppa several times a day to stay productive and on top of the game. Have been recommending this tea and this brand to my friends too.