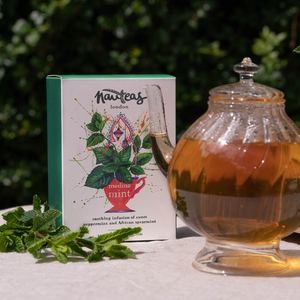 Medina Mint - Whole Leaf Silky Pyramids
Sale price Price $8.00 Regular price
Inspired by the winding bazaars of Marrakech and beautiful piles of mint on display, this soothing caffeine-free tisane is a perfect balance of refreshing peppermint and African Nana mint (spearmint). The Nana mint is grown only in North Africa and is a favourite herb in Moroccan hospitality.

If you'd like to add some Moroccan vibes to your tea time, then brew this tea strong and serve in small glasses with sugar.
How to make it: 1 tea pyramid per person, brew for 3-4 minutes
Ingredients: peppermint, African spearmint.
Each pack contains: 12 silky pyramid tea bags (fully biodegradable)
Shipping: please see this page for our delivery info. Standard UK shipping rate is £3. Free UK shipping over £30.