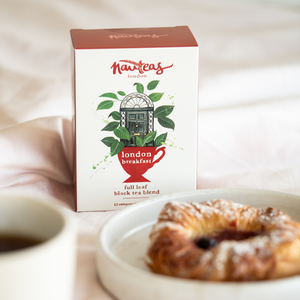 London Breakfast - Whole Leaf Silky Pyramids
Sale price Price $8.00 Regular price
This black tea is not what you find in regular tea bags. The smooth brew has an aromatic body and hits of peachy fruitiness, which comes from top grade Assam tea leaves (FTGFOP1 for the tea geeks). A bit of luxury to enjoy every day!
Enjoy with milk or just as it is.
How to make it: Boil freshly drawn water and use 1 tea pyramid per person. Brew for 3-4 minutes.
Ingredients: full leaf black Assam (FTGFOP1) and Ceylon tea.
Each pack contains: 12 silky tea pyramids (fully biodegradable)
Shipping: please see this page for our delivery info. Standard UK shipping rate is £3. Free UK shipping over £30.