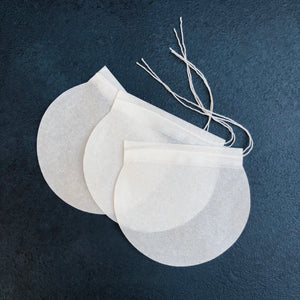 Paper Tea Filters for Loose Leaf Tea
Sale price Price $4.00 Regular price
Turn your loose leaf tea brewing into a ritual with these super convenient brewing filter bags.
Made of paper and string, they are an environmentally friendly option and make loose leaf tea brewing mess-free and easy.
Just open the bag, put a spoonful of loose leaf tea inside, pull on the drawstrings to close and you're ready to brew!

Each pack contains: 30 tea bags.
Shipping: Standard UK Shipping: £2.50. Free UK Standard Shipping on orders over £20.